Spotted Sheep Farm
Icelandic sheep

About Icelandic fiber Lamb Site map

* * * * * * * * * * * * * * * * * * * *
Icelandic raw fleeces, ready-to-spin roving, and more for sale
Icelandic sheep are double-coated. They have a soft, fine under coat called thel, and a longer, coarser outer coat called tog. Read more about Icelandic fiber here.
Icelandic fiber can be processed yourself, (very gently, to prevent felting). If you plan to send Icelandic fleece to a processor, we recommend you contact them first. Some processing machinery will remove much of the tog (which will leave you with softer roving, but much less of it). Some processors have a limit on the length of fiber they can process (or there may be an extra charge for fiber over a certain length). Average lamb fleece staple lengths are from 4 to 7 inches, with plenty in the 5 to 6 inch range.
Our raw fleeces have been well skirted, and then hand-picked-through for as close as possible to zero second cuts or vegetable matter. Satisfaction guaranteed. Read more about how our sheep are raised, sheared and handled here.
The lock structure is preserved where possible, for those who want to spin from the locks, or use them for crafting, thrums, etc. Roving can be purchased in any quantity we have, there is no minimum. Prices listed are for the fiber only, please email us for shipping quotes. We currently have several lamb and adult fleeces to sort through, which will be listed here as they are available. If there is a particular color or type you are looking for, feel free to email us. Thank you!
Icelandic raw lamb fleeces for sale
Icelandic lamb fleeces are shorter and softer than adult fleeces. Most commonly, they are washed, carded, and spun semi-worsted. The longer locks can be separated into tog and thel if you wish, to be spun separately. Lamb fleeces are also excellent for felting. Like most lamb fleeces, the tips can be a bit brittle (sometimes known as 'milk tips'), and usually break off during processing.
* * * * * * * *
We've increasingly been selling our fleeces on Facebook, in a group called Raw Wool for Sale, please head over there and join (if you aren't a member already), and search for Spotted sheep farm!
Fleece #38: Gracie's girl lamb. Beautiful fleece and plenty of it! Every time I looked at this lamb's fleece, the word that came to mind was 'feathery'. This nearly solid white fleece has an occasional lock with moorit tog (see center lock in the close-up pic). Nice length, minimal corkscrewing to the tog. 23.5 ounces of wonderful spinnable fiber, price $35.25.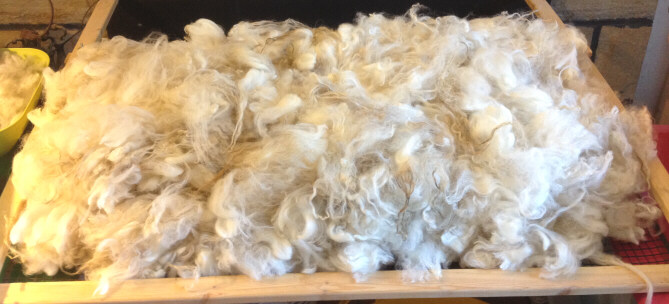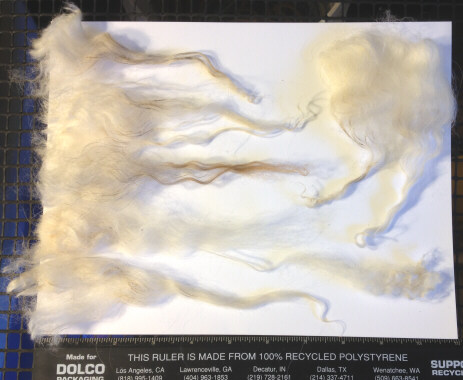 * * * * * * * *


Fleece #49: Mysa's boy lamb. Beautiful medium/dark moorit fleece, with a few white locks. Lamb tips slightly lighter brown. Weight 16 oz of nice spinnable fiber, price $24.00.
I also have the fleece from this lamb's brother, 9.5 ounces of nearly identical color and character, price $14.25. Both SOLD!

* * * * * * * *


Icelandic raw adult fleeces for sale - two fall 2020 fleeces, one moorit grey (Mysa), and one mostly white with some moorit grey (Druna), will be listed as soon as they have been picked through.

* * * * * * * *




* * * * * * * * * * * * * * * * * * * *

Icelandic roving for sale

White lamb roving - soft, beautiful and ready to spin! We have both regular and dehaired roving - they are very similar, but the dehaired is *slightly* smoother to spin. In both photos, the dehaired roving is on the left.
Regular Icelandic lamb roving: $3.50 per ounce, 22.5 ounces available
Dehaired Icelandic lamb roving: $3.50 per ounce, 15 ounces available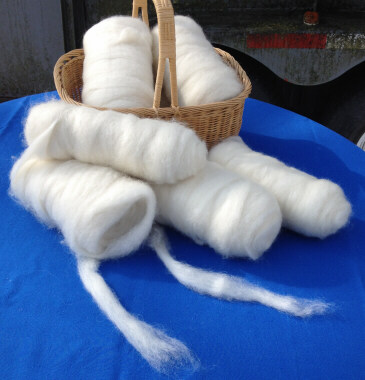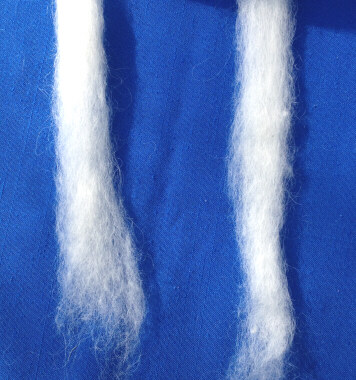 We have been making some spinning and felting batts with some of the colored lamb's wool, such as grey and moorit - feel free to email us if you are interested.
* * * * * * * * * * * * * * * * * * * *
© Spotted Sheep Farm